Cowboy hats are one of the most recognizable pieces of apparel in the world. Don a cowboy hat and the mind immediately turns to cattle and horses, open ranges, and the untamed West.

The cowboy hat was invented by John Stetson in 1865 when, during a hunting trip, Stetson showed his companions how he could make fabric out of fur without weaving. Using the fur collected during the trip, his bare hands, and boiling water, Stetson made a piece of felt. Stetson, as a joke, then made a hat with a huge brim. However, it didn't take long for his companions to realize that the large brim protected them against the elements.
Stetson wore the hat he made on his trip, finally selling it to another horseman for five dollars. When Stetson returned to Philadelphia, he decided to pursue the manufacture of his unique headwear, convinced that cowboys would find it both fashionable and functional. Stetson was soon inundated with orders, and the cowboy hat was born!
The cowboy hat became a regular and necessary part of the cowboy's costume, and was quickly linked to the Wild West. The brim of a cowboy hat was good for fanning a fire, and also made a great umbrella during bad weather. The interior of a cowboy hat was roomy enough to make a good hiding place for important papers and money.
As they are today, a well-made cowboy hat was expensive and considered a major investment. Today, hats of equal quality with the original five-dollar Stetson can cost close to 1,000 dollars. There are many cowboy hat makers in America, and while their hats range in style and price, the basic cowboy hat shape remains the same. Its function continues, still inextricably linked to the Western frontier.
---
Copyright 2007-2022 Zeducorp.
All rights reserved.

History of Cowboy Hats
Related Images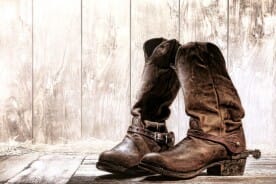 Brown Cowboy Boots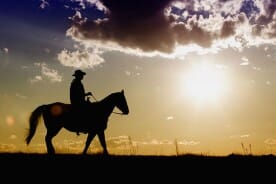 Cowboy Silhouette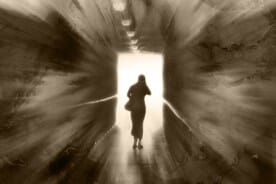 Walking Through History